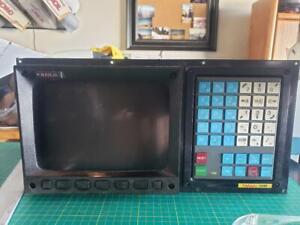 Who doesn't know Panasonic? From home air-conditioners, fridges, cameras, phones, TVs- you name it, Panasonic has the market cornered. But before it grew into this massive global manufacturer we all know today, it was first Matsushita Electric Industrial Co. And they did fairly well on the industrial display front, too. But it didn't start there. 
Panasonic, then Matsushita Electric, began with manufacturing duplex lightbulb sockets more than a century ago. Less than a decade after its launch, Matsushita Electric has produced a bicycle lamp product line under the National brand, under which Panasonic used to sell home, personal, and industrial appliances. 
Fast forward to 2002, Matsushita Electric Industrial (MEI) had a joint venture with Toshiba to merge their CRT manufacturing expertise. Matsushita Toshiba Picture Display Co. Ltd. was born and was the  third-largest CRT company in the world at that time. 
It wasn't all glitter and gold, though. LCDs and plasma monitors are on the rise, and they had to catch up. This eventually resulted into their second joint venture- Toshiba Matsushita Display Technology Co. Ltd., which is a merger of their LCD divisions. 
And of course, the big shift from these two huge Japanese manufacturers influenced the industrial display market significantly in the process. And thus, Monitech and Take 2 made sure we support our beloved Matsushita and Toshiba operator control panels also. 
If you're looking for Matsushita and Toshiba solutions, please know you have your reliable industrial display experts at Monitech and Take 2 to help you out. And hey, you can reach  us on Facebook and Twitter, too!